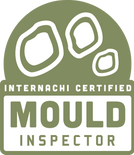 Mould damages what it grows on.
The longer it grows, the more damage it can cause.
Moulds are an essential part of the natural environment. Outdoors, they break down dead organic matter.
But indoors, moulds are potentially toxic, and their growth should be prevented.
Let me inspect your home for mould.
There are many types of mould, and they reproduce by means of microscopic, airborne spores.
Mould can start growing indoors when its spores float inside from outdoors and land on surfaces that are damp.
Exposure to mould by inhaling or touching mould spores can cause allergic reactions and irritation to the lungs,
eyes, skin, nose and throat.
Mould that gets established can gradually destroy the things it grows on, including home furnishings and structural components. You can prevent damage to your home and furnishings, save money, and avoid health problems by controlling unwanted moisture intrusion and eliminating potential mould growth. Protect your investment and your family's health, and let me inspect your home for mould and the warning signs of mould growth.
Your Kingdom Home Inspector is an InterNACHI Certified Mould Inspector, InterNACHI Certified Indoor Air Quality Inspector Calgary and a member of IAC2 the International Association of Certified Indoor Air Consultants.
The purpose of the inspection is to attempt to detect the presence of mould by performing a visual inspection of the property and collecting samples to be analyzed by a laboratory. The scope of the inspection is limited to the readily accessible areas of the property and is based on the condition of the property at the precise time and date of the inspection and the laboratory analysis of the samples collected. Mould can exist in inaccessible areas such as behind walls and under carpeting. Furthermore, mould grows. As such, the report is not a guarantee that mould does or does not exist. The report is only indicative of the presence or absence of mould. As a courtesy, Kingdom Home Inspections may point out conditions that contribute to mould growth, but such comments are not part of the report.
We will do a visual inspection of the exterior and interior of the space, we will also collect spore and swab or lift samples. The sampling process involves capturing airborne mould spores and swab or lift samples of growth present in the space and then sending them to the lab for scientific testing. This consists of a minimum of three samples to be taken, two outside samples and at least one inside.

We follow the IAC2 Mold Inspection Standards of Practice for all our Mould Inspections.
Helping you make wise decisions and avoid costly mistakes!